So, I missed my usual blogging day because I was out on tour promoting
I WANNA BE YOUR JOEY RAMONE
. I got home late Thursday night/early Friday morning and have been scrambling to catch up every since. But it is time to blog about my adventures. You can read about most of my adventures in L.A.
here
and I will be talking about Monterey (where I met the fabulous
Kelly Parra
!), San Francisco, and Seattle on
my blog
over the next few days, but I saved the tales from the most rockin' part of my tour
ROCK 'N' READ
for the place where I first started blabbing about doing the event.
I thought you guys would be excited to know that
Alexa Young
and I *actually* pulled this thing off with the contribution of some excellent rockers and readers and a very lovely woman at Virgin Megastore named April!
Since I spent most of my day at RNR too overwhelmed to really thing and analyze the whole thing (and I was overwhelmed in that crap-I'm-running-an-event way and in that wow-these-authors-and-bands-are-so-awesome way!), I'm going to recap it in photos and videos mostly!
Here's the location right in the center of Hollywood. They actually had the event listed on the scrolling thing outside, but our camera didn't seem to work fast enough to get a picture of it: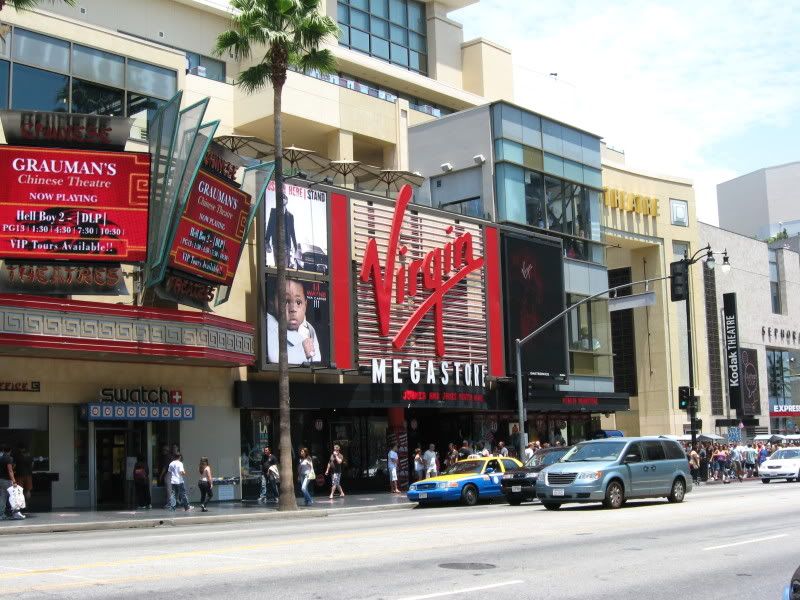 Here was the pretty book display at the front of Virgin Megastore:
So the day kicked off with the band
Moth Eaten
, which is fronted by amazing girl named Susana who I met on MySpace. Her songs are beautiful and inspiring. She also gave me an awesome handmade t-shirt at the end which I wore with pride at an event in San Francisco.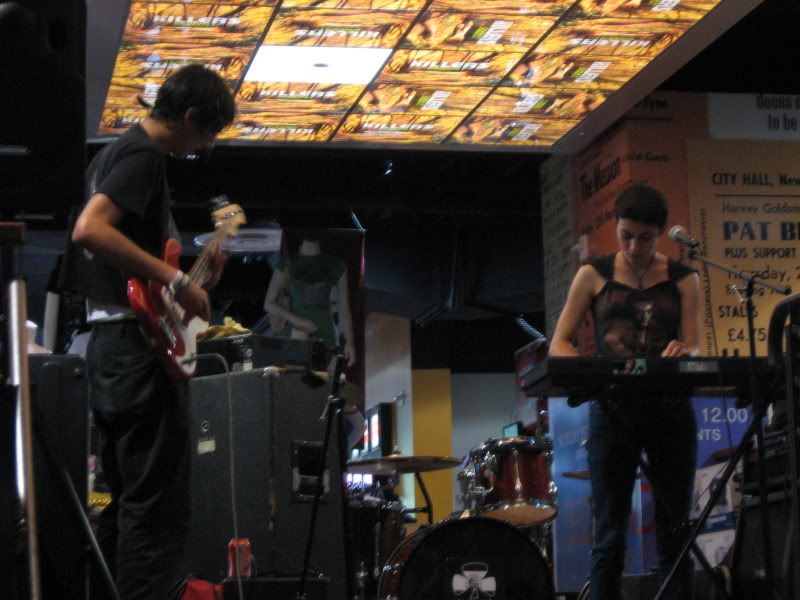 Our first reader was
Kim Culbertson,
who came all the way down from Northern California and read from
Songs For A Teenage Nomad
(which you can win in
my latest contest
by the way). It was totally my kind of story, thick with music and emotion: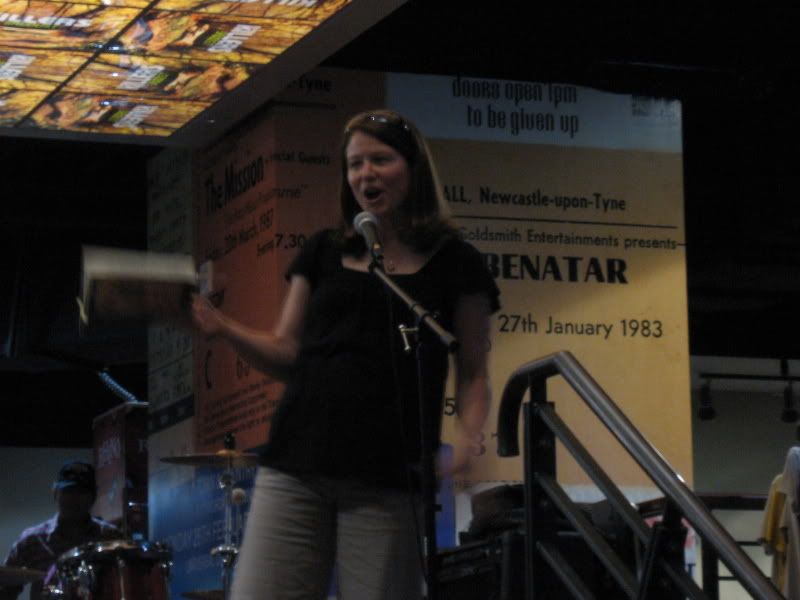 Next up,
Cherry Cheva
, author of
She's So Money
. Cherry was just so damn cute (which I totally forgot to tell her) and her reading was really high energy and fun:
Speaking of high energy, the band
Dirty Spanglish
took the stage next. They came all the way down from Bakersfield for the event along with another band and author. I first heard them on MySpace, too and thought they sounded like so much fun. They definitely were. They reminded me of my high school friends' band the Slackjaws, which is a pretty damn huge compliment. You can hear some of their song "Tuesday" on the recap video I'll give you at the end. (I know what a tease!):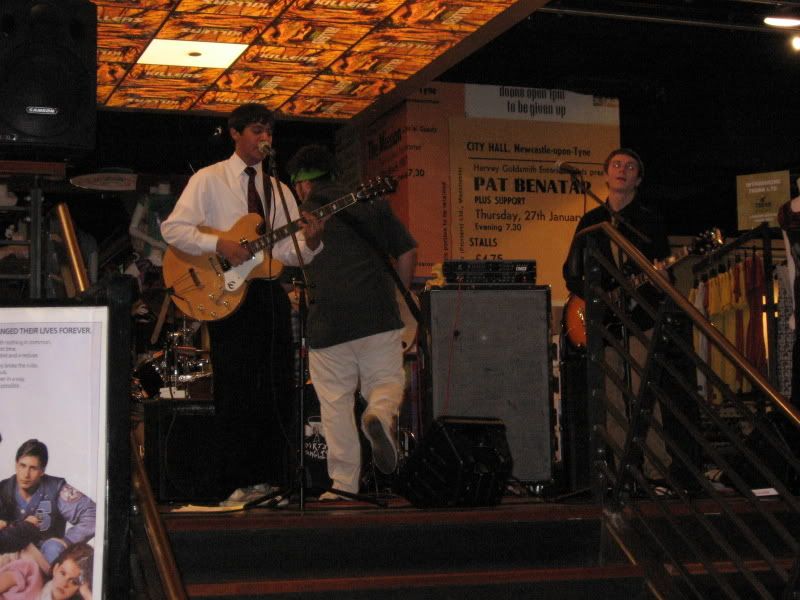 Next up was
Megan Crane
reading from
Names My Sisters Call Me
. It was a section where the main character goes to her sister's art opening and realizes that her sister has displayed photos of her hoo-hah as I like to call it (vay-jay-jay to some of you or there are a million others). You could just feel the humiliation ooze off the page. Such a great story!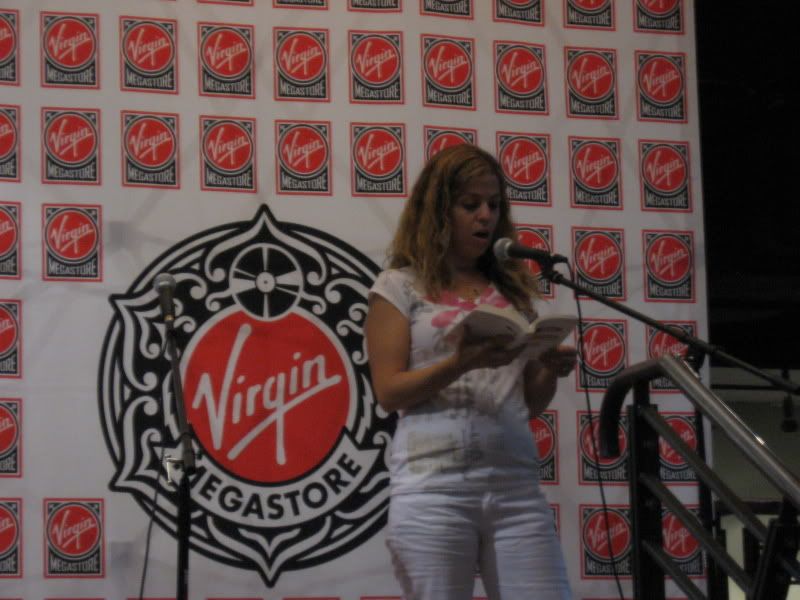 Next was
N.L. Belardes,
our only male reader and the man who coordinated all of the Bakersfield acts and put together an amazing recap of the event, which you can
read here
. I really encourage you to check that out because it includes more pics, the video I will post at the end and most important part of the piece he performed. And it was a real performance, something I would have expected from a Beat poet so that was simply amazing: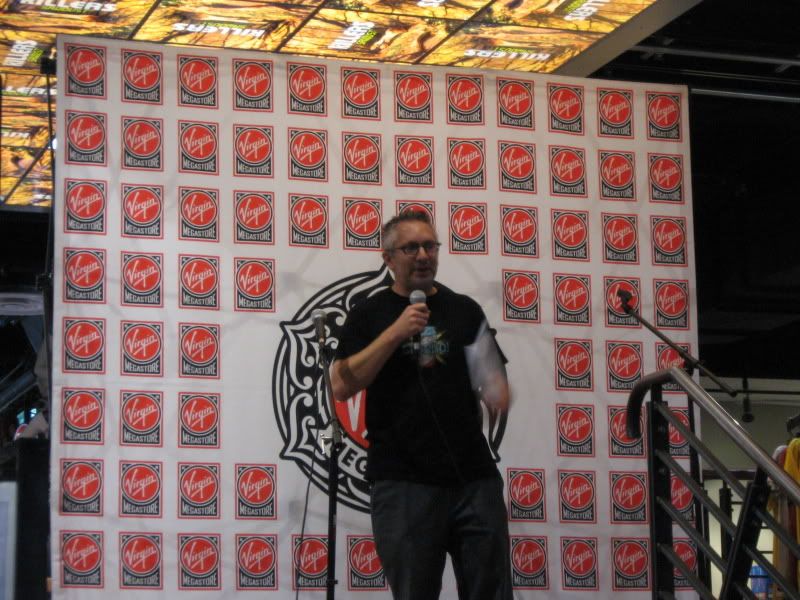 Then it was time for another band,
Norfolk
, also from Bakersfield. James of Norfolk also acted as our sound guy (thank you!!!!). They rocked. Seriously rocked. Shoppers were walking by holding their ears. And the audience demanded an encore, they were that good. Seriously someone should sign this band fast!!!!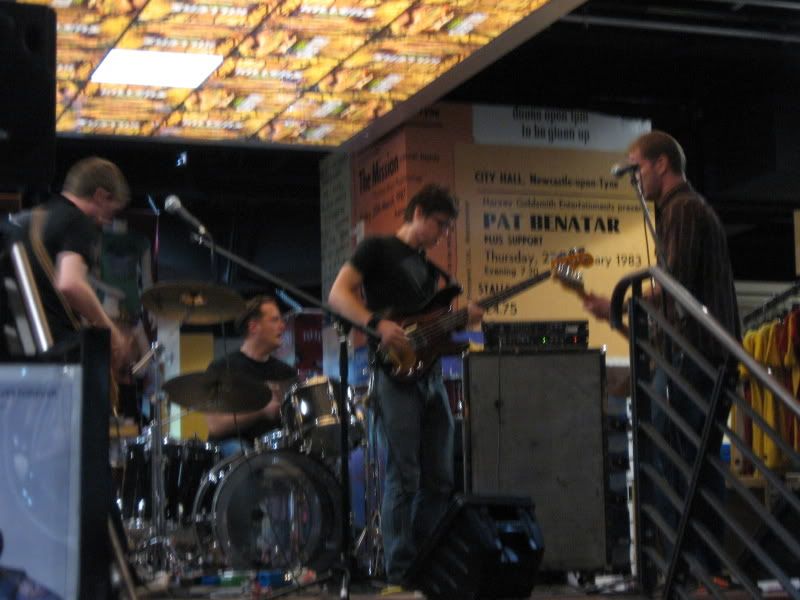 Rebecca Woolf
read after Norfolk and even though they were a tough act to follow, she nailed it with her chapter from her memoir
Rockabye: From Wild to Child
, which documents her journey of finding out she was pregnant when she was a party girl to having her son. The chapter she read about finding out she was pregnant was both hilarious and powerfully emotional. Now she is pregnant with her second child and yet still dresses in clothes that totally make me jealous: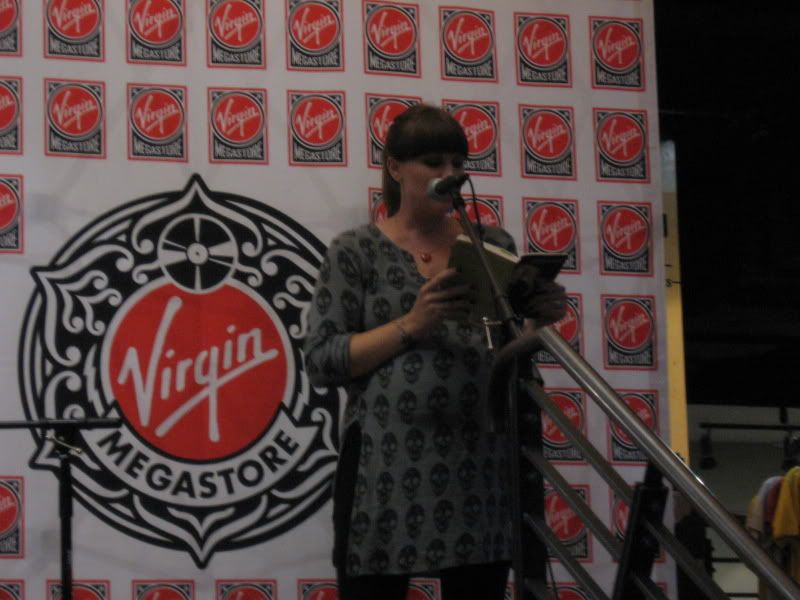 Alyson Noel
is a YA author I really admire and I know many others do as well, so we were completely honored to have her read a great section of
Cruel Summer
. This book sounds like the perfect summer read!
Our next performer was
Noah Stone
, an incredible acoustic musician who Alexa found. His songs were absolutely gorgeous:
Then
Alexa
read from
Frenemies
and though you can't see it here (but can in the recap video!), she had an awesome hand drawn Frenemies "tattoo" on her arm. I can't say enough good things about Alexa because I really couldn't have done the event without her and she and her book are so much fun!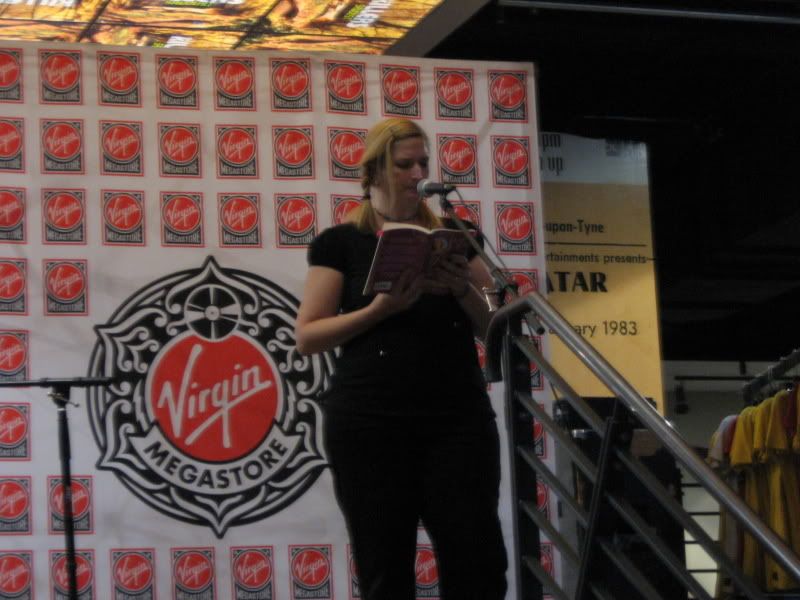 I stole a picture from
Alexa's blog
of me reading my section of IWBYJR. I read the part where Emily and Regan climb in through Tom's window and invite him to join the band:
You can actually hear some bits of my reading in that video that N.L. Belardes put together of the whole day which I keep mentioning and I guess I'll just post because I only have one more act to cover and I'm providing a video for them, too!
After I read we did our great big giveaway. These bags were HUGE and filled with books and CDs and other swag. My friend Annika won one. It wasn't fixed, I swear! But she had dupes of three of the books, mine, Alexa's, and Rebecca's and is
doing a contest
for them on her blog!!! Go check it out and enter. You may also want to see
some of her photos
from the event, which include her absolutely adorable son, Sam!
The last band of the evening and the one I was most eagerly anticipating was
Lucid Nation.
I've been listening to their music and corresponding with Tamra, the singer, since I was 16. I was so honored they came to play the event. They did a really rousing protest song which Susy from Moth Eaten sang along with. Here is the video:
So that was my long-awaited ROCK 'N' READ! I hope you enjoyed the recap and it makes you wish you were there!!! I know, I'm so evil. But once I get my strength back, planning for a Chicago RNR will commence! I'll keep you updated!