When I was a teenager, I was very proud of the fact that I barely watched any TV. I read books. I listened to punk rock. These were worthy pursuits. Movies, those were good too. But TV was thing making the masses dumber.
Yeah, I'm so not snobby like that anymore. Even back then, whenever I was home sick or bored during the summer, I would tune into my guilty pleasure: One Life to Live. Yep, as in the soap opera. Which I still watch daily and have since the summer before freshman year of high school.
I think my frustration with TV came in the middle of high school when one of my all-time favorite shows, My So-Called Life, was canceled after one season. I was the same age as the characters in that show and dealing with the issues they were dealing with. I'd never seen something so real on television before. But they CANCELED it!!! And on a total cliffhanger too! Would Rae Ann and Angela ever really be friends again? Would Angela and Jordan Catelano get back together? I would never know. So I started making blanket statements that TV sucked, it was mind-numbing, there were no good stories told through that medium.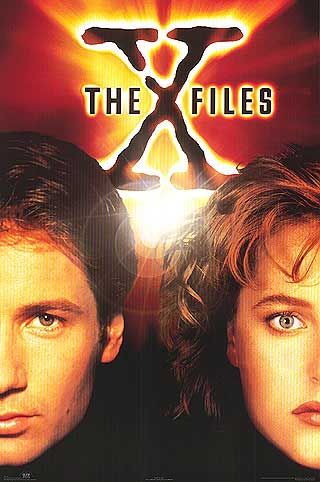 And honestly during the mid-to-late nineties, I don't think there were many. There were a lot of sitcoms, which weren't really my thing unless I was really bored or sick or tired or bummed out and then yes, please cue up the Seinfeld. But the only show I watched religiously was The X-Files because it had all the right elements of tension and suspense and OMG would Mulder and Scully ever get together???
I don't know if the writing on TV has just gotten better or I have come to a point in my life where I need some mindless entertainment and melodrama to unwind (probably a mixture of both), but I've found myself watching a lot more TV over the past few years, including catching up on the things I missed during my TV boycott phase. My friend Jenny and I get together weekly to watch the Gilmore Girls (we're on season 4 and were both probably way too excited when Sebastian Bach tried out for Lane's band!). And on my brother's recommendation, I also watched Freaks and Geeks because he felt like it was a comedic 80s version of our high school experience. He said the little brother reminded him of himself and the sister reminded him of me and it was quite true! However, I had the same reaction when I reached the end of that series as I did with My So-Called Life, wondering why a show that was both so hilarious and so true to real high school life had gotten canceled!
My husband and I have one Netflix queue for movies and one for TV and lately the TV one gets a lot more attention while the movies just languish for weeks. Currently we are watching and loving season two of True Blood. We are also into the comedies on Showtime like Weeds and Californication. (I never thought I would pay for the premiere cable channels, but we fell so in love with those shows when watching them on Netflix that we had to.) I'm really loving this season of Weeds so far, especially since right now it is in my favorite city, Seattle.
I also have to admit that I started watching Grey's Anatomy because it's set in Seattle, but I kept watching because it has the soapy drama I crave. Usually it is pretty well-written too, though I felt it started to go downhill for about a year or so there. Then the end of last season really picked up and the season finale had my heart pounding and left me crying on the couch, so I have to say that is the season premiere I am most anticipating.
I was also incredibly pumped for the 90210 premiere, and it did not disappoint! An earthquake on the first day of school? A bunch of new potential relationship and broken hearts? And some seriously sketchy situations going on? Soap opera heaven for me!
90210 falls into my soapy drama category, but as a YA writer and someone who deep down still feels 16, I have to say I have a particular soft spot for those teen dramas. I love Degrassi: The Next Generation too, but it has gone on so long at this point that most of the characters I initially watched for are gone.

On the soapy drama front, I have to say I was disappointed that the new Melrose Place was canceled as I rather enjoyed it, but now I have a hole in my TV viewing schedule to fill (not that I have that much time to watch TV unfortunately). There are a bunch of shows I really want to see but am afraid I might be too far behind on to tune this season. I might have to catch up over next summer and then get hooked. Those include Gossip Girl, The Vampire Diaries, Glee and Mad Men. All of which sound right up my alley for various reasons, but I didn't have time to watch them when they started so now I'm behind.
Maybe there are some new shows just premiering that I would like, but I'm not that up on the TV news so if you guys have suggestions, I'd really love to hear them. Obviously I watch all kinds of TV. I love sci-fi/fantasy like X-Files, Battlestar Galactica and True Blood. I love my soapy dramas like 90210 and Grey's Anatomy. And I have a particular soft spot for shows that seem true to life like My So-Called Life was... well obviously, those are the kind of books I write now, so if someone out there also likes those kinds of shows and wants to turn
BALLADS OF SUBURBIA
into one, please let me know ;)
But seriously, what returning and/or new shows are you especially excited about this season?