Today marks exactly three months until
Ballads of Suburbia
is released... *pauses to panic* 
Deep breath. 
Okay. 
That means it's time to start spreading the word about it. Fortunately I have an amazing friend, Jenny Hassler, who is a complete genius when it comes to website stuff. She revamped my site, gave it a total Ballads of Suburbia makeover, including using photos from the real setting of my book. I think it's pretty cool, so please
check it out
! Be sure to go through the
Ballads section
to learn all you can about the book :)
Last week, I asked my blog readers to create cool banners and widgets for Ballads because I'm just not good at that sort of stuff. I did it as a contest. Those whose designs were chosen win ARCs of Ballads. I wish I could have chosen everyone who entered. I really do, but since I don't have an unlimited number of ARCs unfortunately I couldn't. I chose two people in the banner category and two in the widget category. I wanted to announce the winners here, so without further adieu....
Widget winners are:
Lucile, who created these two widgets:
And Devyn who created this one:
My Banner winners are Lisa who created these two banners: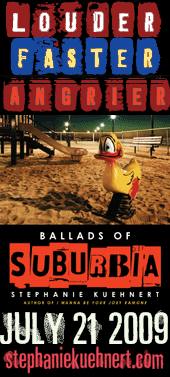 And Renee, who created this one:
Now, that I have banners and widgets in all shapes and sizes, which you can grab code for in
this section
of my website, I can start a new contest:
The Web Plastering Contest
! All the info about it can be found
here
. The deadline is May 21 and three lucky winners will walk away with ARCs of Ballads and some other great prizes! So I hope you'll enter and help me spread the word about Ballads because I've gotta say.... I'm almost more excited about it than my first book!