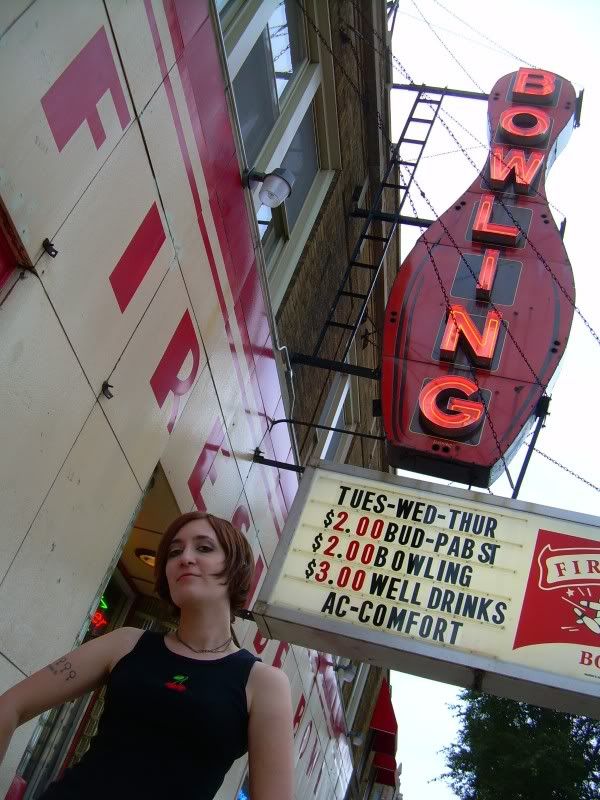 Rock 'n roll has ruled my world since fifth grade when my parents finally caved after years of my begging and agreed to get cable so I could have MTV. When I got a CD player for eighth grade graduation, the first disc I rushed out to buy was Metallica's Black Album. Now I own practically 1,000 albums on CD, cassette, and vinyl. I can't even count how many concerts I've been to because I spent most weekends during my junior and senior years of high school seeing punk shows at the infamous Fireside Bowl in Chicago (which I am pictured in front of). Back then, I dated drummers, singer/guitarists, drummers that wanted to be singer/guitarists…. And of course, deep down, I wanted to be a rock star.
I took guitar lessons, had multiple friends try to teach me, and learned a few simple punk songs from tablature. I'd promptly forget those songs because I'd stop practicing for a month to write poems or a short story instead. I have writer friends who are in bands, and, oh, how I envy them for being multi-talented. I'm just not. I realized this a few years ago after spending my tax return on a shiny new guitar and amp. I practiced without real progress for a few weeks and then turned full attention to my novel. My fingers just don't work on the strings like they do with a pen or on the keys of my laptop. I decided I would have to become a literary rock star instead.
Emily Black, the main character in my first novel I WANNA BE YOUR JOEY RAMONE, is the talented, ultra-cool, punk rock songstress I wish I could be. And when I found out that MTV Books would be publishing it in July 2008, it felt like things had come full circle.
I WANNA BE YOUR JOEY RAMONE is about the way music connects us. Punk rock is in Emily's blood. Her mother, Louisa, hit the road to follow the incendiary music scene when Emily was four months old and never came back. Emily grows up playing guitar and singing, determined to find the tune that will bring Louisa home. You'll have to wait until next summer to find out more about Emily and Louisa, but you can see a sneak peek of chapter one here.
I truly believe that music can bind us like nothing else. My boyfriend and I met after discussing one of our favorite bands online. I will never forget the shirt my best friend was wearing when I met her (Anthrax, proving how totally bad-ass she was). What about you? How does music connect you to the people in your life?